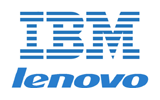 8GB IBM / Lenovo ThinkServer RD220 memory
IBM / Lenovo Server memory expansion
IBM / Lenovo ThinkServer RD220 Speicherinfo:
System: Server RAMMemory ex factory: ---
Maximum RAM: 128GBMemory slots: 16

Important information about your system memory (RAM)
Your system supports only memory modules with selected memory chips. If you think you have found a store for a lower price elsewhere, then it is possible that the cheaper memory chip will not work.
Memory from our website is 100% compatible with your system,
or you get your money back!
modified eCommerce Shopsoftware © 2009-2020